Welcome to AsureQuality's China Marketing Insight Series
in Assurance Marks
Author: Kellee Henton
2606
This is the seventh in our series of insights and learnings around the China marketing calendar.(external link)
The Fruitful Results of the 5th CIIE
The world's largest import trade fair, the 5th China International Import Expo (CIIE), achieved another record-high result with an increase of 3.9%1 compared to last year. Although fewer exhibitors and visitors attended this CIIE due to China's stringent virus-prevention policies, international exhibitors still signed USD $73.5 billion contracts2 with Chinese companies during the six-day exhibition. Many deals were even pre-signed before its launch.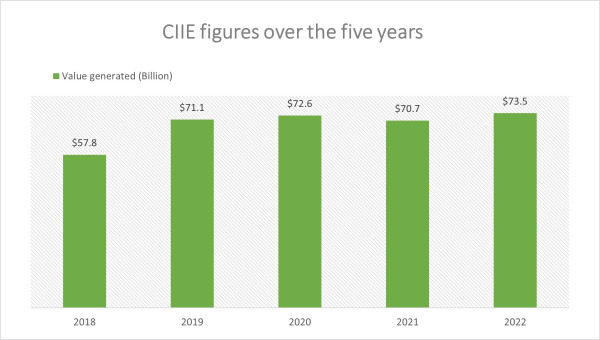 461,000 visitors and 2,800 exhibitors from 145 countries and regions1 participated in this year's CIIE. 90% of those exhibitors participated in CIIE in the previous year, and 284 of them are from the world's top 500 enterprises.
1,076 companies from 104 countries2 in the food and agricultural section took part in it, which took the largest number of attendants.
F&B Retailers Positive Outlook
While the CIIE remains a win-win platform for international trade, food and beverage retailers are thriving3 this year with new product offerings which gain advantage in a competitive landscape.
Attending CIIE for five consecutive years, the US company Oreo announced its expansion4 from biscuit to baked goods and pastries categories, with the launch of Oreo Multilayer Cheesecake and Oreo Airy Cake products. Partnering with Fonterra, the dairy raw materials from New Zealand is used in Oreo's first-of-its-kind bakery.
Another big highlight is from the global food group Savencia. This year, Savencia unveiled its New Zealand dairy brand JOYHANA3. The brand includes the launch of their UHT whipping cream product which is described as being a suitable ingredient for pastries and desserts because of its texture and natural dairy flavour.
As indicated by Teh-Han Chow, Fonterra China CEO, the long-term demand for dairy products continues to grow in the market.
Ecological Progress of the 'Dual Carbon' Goals
Of the several keywords5 that Chinese media summarised for this CIIE, low-carbon remained one of the essential ones.
In 2020, China announced their efforts for low-carbon which would see peak its carbon dioxide emissions by 2030 and to achieve their carbon neutrality goal in 20606. To align with the callouts, the 5th CIIE exhibitors showcased their latest sustainable initiatives, solutions and technologies7 that have been incorporated into their products and services, from the recycled polyester fleece to the lower-carbon packaging.
Lots of companies in the consumer goods and food sector also emphasised their 'green' efforts8. Theland, for instance, exhibited its new milk product which uses lower-carbon plant-based package boxes. The Tetra Pak carton packaging used for Theland's new A2 β-casein milk product contains plant-based materials (including polymers derived from sugar cane) which result in a 14% lower carbon footprint than the standard Tetra Pak carton. This lower-carbon effort has been endorsed by AsureQuality with the backing of New Zealand government testimony.
It is pointed out that consumers, especially those in Gen Z, focus more on how the products were made, and this makes companies strive to prove their sustainability attributes by offering more transparency across the supply chain9.
AQ Endorsed Supply Chain Transparency in CIIE
With an AssuredTM mark and unique QR codes on pack, AsureQuality AssuredTM Transparency programme provides verified holistic supply chain transparency covering the entire food supply chain, from farm to shelf.
In the 5th CIIE, our experts remotely supported Assured products to demonstrate the validated attributes and tell their unique brand stories to visitors, by way of on-farm videos, livestreams, Vlogs, and more.
NZ dairy brand Meadow Fresh played the supporting video from Assurance Marks at their booth: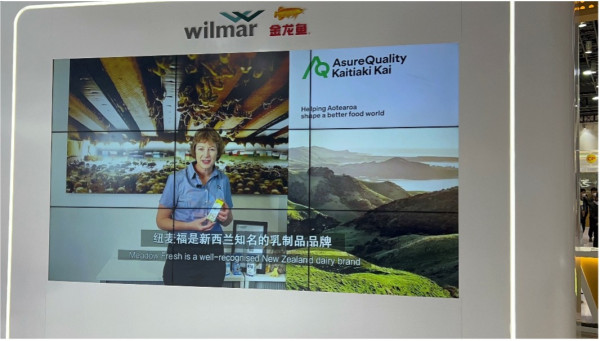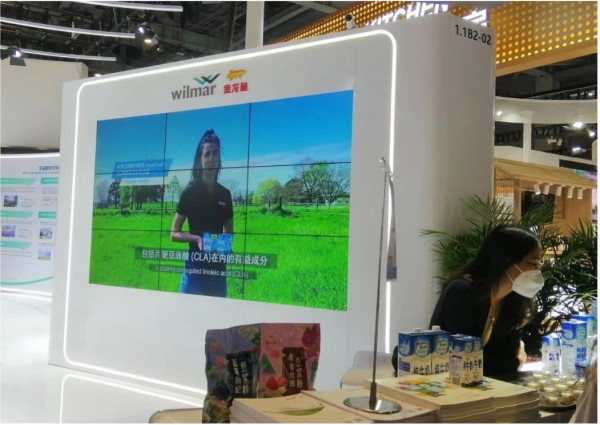 E-commerce Giants Hide 11/11 Figures for the First Time
In November's Double 11 shopping festival, Alibaba's Tmall marketplace offered discounts on over 17 million products, 3 million more than last year. 290,000 brands across 7,000 product categories from over 90 countries have participated in this largest e-commerce event of the year.
Analysts expected another record-breaking result, achieving this turned out to be challenging. Although Alibaba announced this year's 11/11 "delivered results in line with last year's gross merchandise volume performance despite macro challenges and COVID-related impact"10 and JD.com declared its sales "surpassed industry growth rate" and "set new records",11 for the first time from 2009, neither of the two e-commerce giants released sales data or gross merchandise volume.
In fact, last year's 11/11 shopping festival has already shown signs of fatigue. Although Alibaba reached a GMV of 540.3 billion yuan (US $84.54 billion),12 which is almost the combination of Black Friday and Cyber Monday, the growth of only 8.45% from 2020 made it the slowest recorded growth rate in history.
In recent years, China's e-commerce platforms have developed a crowded which decreased consumer enthusiasm13. Shortly after 11/11, the 12/12 and lunar New Year Shopping festival will be launched in December and January.
Other factors including weak consumer confidence caused by repeated Covid lockdowns, worries of high inflation, and a slow economy have also contributed to the toned-down hype this year.
Though there is a conservative indication of the final figure of 11/11, the fact14 that e-commerce is still the fastest-developing sales channel in China stay unchanged. Also, China is undoubtedly still the biggest retail market in the world.
Our Technical Expert Arna Stevenson
Arna has been working in New Zealand's primary industry for more than 10 years. With comprehensive experience in science and business analysis and rich skills in technology, Arna is absolutely the technical expert of the Assurance Marks team. When scanning the QR codes on the pack of Assured products, you will see the unique interface created by Arna that tells you specific product claims and the full supply chain story verified by AsureQuality, from farm to shelf.
---
Free consultation with personalised solutions
We support brands with claim substantiation, verification, and co-marketing activities demonstrating trusted assurance, and building consumer confidence and engagement.
You can book a free 15-minute consultation(external link) to discuss how to leverage AsureQuality's New Zealand Government-owned independent food assurance expertise within your China marketing mix.
If you have any questions, please don't hesitate to get in touch with our team of experts.
---
If you've missed previous issues of our China Marketing Insight Series, you can find them here.(external link)
Follow our official WeChat account where you can explore more case studies, technical information, and market insights in Chinese. Just simply search our WeChat ID: AsureQuality_NZ
We look forward to sharing more with you soon!