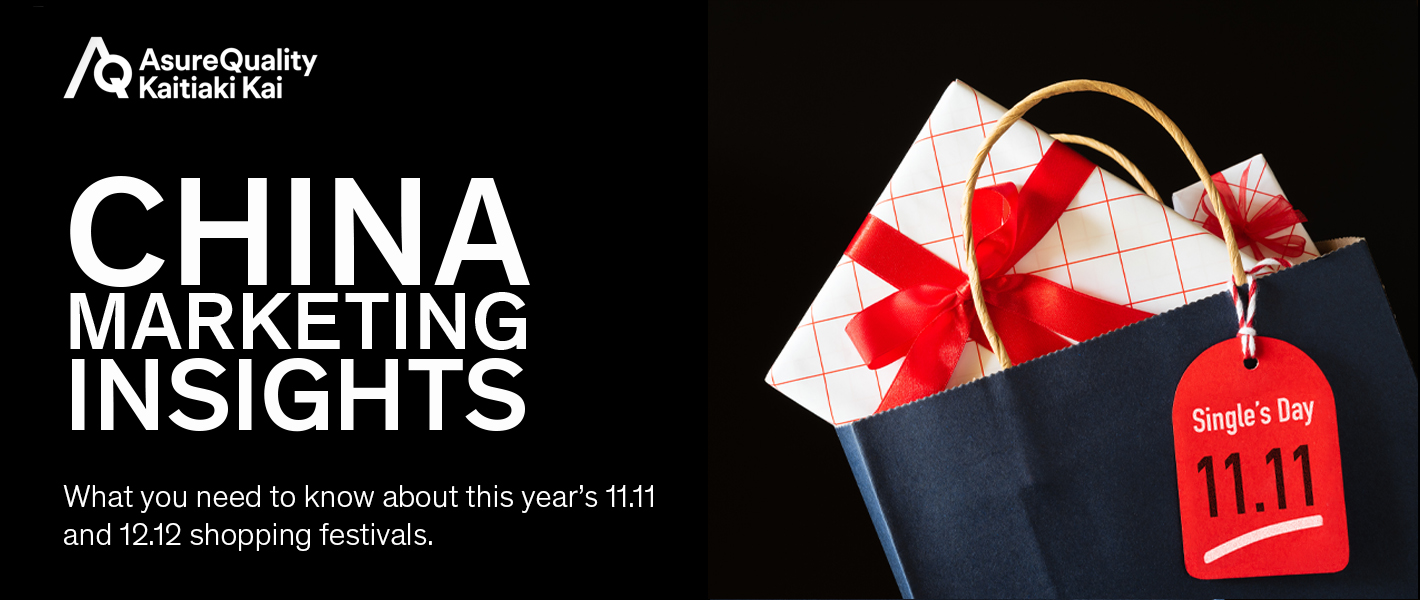 Welcome to AsureQuality's China Marketing Insight Series
This is the third of our series full of insights and learnings from the busiest time within the China marketing calendar. In this edition, we cover the phenomenal growth of the 11.11 and the turnaround of 12.12 shopping festival.
The incredible power of 11.11
Singles Day (AKA 11.11) has transformed

(external link)

from what began as a 24-hour flash sale into a multi-day extravaganza, ending at midnight on 11 November. This year JD.com began sales in late October, while Alibaba started at the beginning of November. This extended sales period has enabled them to hit record sales figures.
In just 13 years, Alibaba Group's 11.11 Global Shopping Festival has evolved from a small marketing campaign raising awareness for e-commerce in China to become the world's single largest sales event.
Five years ago, 11/11 was largely limited to Chinese online retailers. This event has now expanded to become the largest shopping festival in China and Southeast Asia for both online and offline retailers, with huge growth in the categories and industries participating each year.
Evolving from a simple online shopping frenzy, this event has now become a highly entertaining social phenomenon.
Interestingly, discounts are not the biggest factor impacting consumer purchasing decisions, and bulk buying to stock up on a year (or more) worth of products is also now less common than in the early days of the event.
A trend that has accelerated within Tmall.com recently sees brands using 11/11 as an opportunity to strengthen relationships with existing customers and attract new ones through omnichannel experiences, with a reduced focus on the heavy discounts and package deals seen in previous years.
In the lead up to the event, consumers eagerly anticipate what their favourite brands might come up with during 11.11 such as special offers for loyalty programme members, limited-edition products, or unique experiences.
Increasingly Chinese consumers buy from brands whose values they align with

(external link)

, and whose messaging resonates with them the most. This type of relationship is built over time and a brands' performance at 11/11 is a good indicator on the efficacy of the brand or retailers' efforts towards building a solid connection with their customers throughout the year.
The phenomenal growth of the 11.11 and the turnaround of the 12.12
This year a whopping $139 billion worth of goods sold on Alibaba and JD.com platforms(external link) alone. These two platforms' combined year-on-year growth of 15.5% growth was much lower than previous years', but still very impressive given the odds stacked against it.
The Gross Merchandise Value (GMV) of Alibaba during the promotion period was 84.54 billion USD, representing a jump of more than 8% from 2020 figures. JD.com's GMV during this year's promotion period was 54.6 billion USD, which was a 28% increase from 2020.
With the number of sellers on Alibaba increasing 32% this year in a pool of sales that rose by 8%, the cost of acquisition has increased even further. This reinstates the importance of brands developing a smart strategy around Singles Day, which feeds into a bigger picture

(external link)

to achieve real success.
Arguably the most impactful growth drivers are consumers from lower tier.

(external link)

This year's Singles' Day

(external link)

was the first which saw shoppers from 'smaller' cities outnumber those from the larger tier 1 and 2 cities. A significant share of JD's 28% growth can be attributed to consumers from lower tier cities which accounted for 77% of shoppers. Similarly, spending from lower tier cities on Alibaba platforms grew 25% on last year – much higher than the company's overall 8% growth – indicating that spending by the more mature big city consumers barely grew, if at all.
The Double 12 shopping festival (AKA 12.12), the country's year-end shopping bonanza that follows the Double 11 festival, hit the brakes this year

(external link)

. This is partly a result of both consumers' and merchants' pre-spending during Singles' Day, which saw sales hit a record high this year, and it also comes as companies ranging from e-commerce sites to livestream platforms launch promotions throughout the year that divert consumers' attention.
Competition amongst Chinese shopping platforms
Singles' Day is representative of how competitive China has become

(external link)

. Alibaba is facing more competition than ever from other platforms, as illustrated by its shrinking share relative to JD, as well as Douyin, Kuaishou, Suning, VIP and Pinduoduo in the increasingly fragmented market. Over half of consumers were planning to shop on three or more platforms this Singles' Day

(external link)

according to a Bain survey.
Just one month later, the competition is largely absent in the Double 12 shopping festival, with much reduced promotional activity and a shorter sales period.

A manager of a US-listed Chinese e-commerce platform explained that January 2022 will see another sales bonanza, as more Chinese will choose to stay at their working places to spend the Spring Festival holidays amid a resurgence of coronavirus cases. As demand will explode at that time, the company decided to hit the brakes in December and then come out in full swing in January, noting the company still has strong confidence in the Chinese consumers' spending power.

Beijing-based independent tech analyst, Liu Dingding, describes this year's Double 12 as an expected development, as the internet economy entered a phase of adjustments this year. Although the growth rate may slow down, demand is still very robust and offers sheer size, and e-commerce platforms will pursue quality and innovative development to satisfy demand from market segments.
Impact of the Pandemic
Consumer demand for imported goods spiked during the pandemic in China as more international brands entered the world's second-largest economy via e-commerce platforms, according to a report published by Alibaba early this month.
Cross-border e-commerce trade among members of the Regional Comprehensive Economic Partnership (RCEP) increased in a series of waves starting early 2019. Growth in the second and fourth quarters of each year stemmed from sales events

(external link)

, including the 6.18 Mid-Autumn Shopping Festival and the 11.11 Global Shopping Festival.
The importance of strong logistics

(external link)

was never more pertinent with the current global supply chain, logistics, and customs clearance challenges. To minimise the impact, Alibaba's logistics arm,

Cainiao, pre-stocked over 300 million goods from 87 countries and regions in warehouses throughout China

(external link)

, as well as

securing additional cargo space

(external link)

in over 1350 flights, 150 trucks, and 210 ships to ensure swift delivery of cross border purchases.
Current themes across the China market
Sustainability has become a top priority for brands and platforms, messaging around this is being pushed out year-round as part of their long-term marketing plans rather than just during large shopping events.
Green, planet-friendly innovations: Brands are responding to consumer-driven demand for products with a focus on being green, eco-friendly, and sustainably produced with minimal waste.
Creating a year-long success campaign: E-commerce in China is no longer limited to a single event. Brands and retailers are seeking ways to turn the traction they gain during their festival marketing into a steady revenue stream.
Chinese consumers love buying foreign brands: Although there is no question about the rise of domestic brands, it's clear that Chinese consumers still love buying foreign brands. Major categories were largely dominated by well-marketed foreign brands, including many Kiwi brands.
History and evolution of 11.11
Because the number 11.11 resembles 4 solitary bare sticks, Chinese young people started to celebrate their singleton on every 11th December since the 19th Century.
In 2009, Alibaba and its founder, Jack Ma, transformed the day from an 'anti-Valentine's Day' for Chinese singletons to an annual shopping festival aimed at raising awareness of buying goods online, while also giving a sales lift to independent retailers selling on Alibaba's platform in China. In 2009, there were 27 online stores participating in the first 11.11 festival, surprisingly reaching sales of $8.2 million USD in total.
In 2010, the second year of 11.11, the sales reached $147.53 million USD on the Alibaba platform with 711 online stores' participating, with transactions growing rapidly every year as seen in the graph below.
Between 2012 and 2015, the 11.11 festival gradually growing from an Alibaba promotion to a socialised shopping festival on multiple Chinese e-commerce platforms. More and more social resources, including payment and logistics, are mobilized during the promotion period. Since then, 11.11 has become a cultural phenomenon throughout China.
In 2015, the 11.11 festival achieved globalization with more than 5,000 international brands from 21 countries participating in the 11.11 promotion.
Nowadays, 11.11 has become an important calendar date for thousands of shoppers and retailers all over the world.
In our next edition of China Marketing Insights, we'll provide details around the Spring Festival and Valentine's Day promotions, plus more insights on the China market in general.
Free consultation with personalised solutions
We support brands with claim substantiation, verification, and via co-marketing activities that build consumer confidence, engagement, and sales. You can book a free 15-minute consultation(external link) to discuss how you want to leverage AsureQuality's NZ Government-owned independent food assurance expertise within your China marketing mix. If you have any questions, please don't hesitate to get in touch.
Best wishes,
Pam Whitfield
Integrated Assurance Manager